An interview with Charita Nichols, digital abstract artist and playlist curator
What's your earliest memory of music? 
At maybe 2 or 3 years old, I had a little music box that my Mom used to let me keep in my crib while I napped. It played 'Somewhere over the rainbow'. Anytime I hear that song now I feel super-sentimental.
What was the first album you bought? What do you think of it now?
I really had to think hard about this one! I think the first album I bought was 'Power' by Raze. I was only allowed to listen to Christian / Gospel music growing up, so when my parents let me pick my first CD at around 7 or 8 years old, this was an instant favorite! I still think it's an awesome album – I just listened to it a month ago and still know all the words after 20 years! Still a vibe.
Can you play an instrument? 
I can play a few instruments. My first instrument was the clarinet, which I started in elementary. In middle school, I picked up the violin. In high school, I took a piano class, that was fun, but difficult. I was never in a band, but funnily enough, I had Vortex Smiles as my chosen band name if I ever started my own. I do hope to DJ or make my own music one day.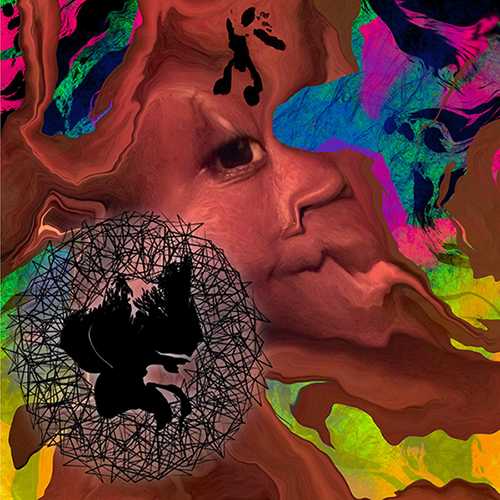 What inspired you to start creating? 
I started creating art regularly in Summer 2020. I was going through a rough time emotionally – I had just left a program that I thought I was gonna make a career out of, I had guy problems, and the pandemic going on – I was going through it! 
I kept seeing this artist, Tankuss, (a popular digital collage artist) and started thinking to myself, hmmm, maybe I'll try my hand at some digital art. I've always loved art; I just didn't think I was good enough. So, that summer I let go of my fear and just put myself out there. It's like art therapy now… it helps me in so many ways.
As for curating playlists, I believe I started in 2015 with Spotify. Making playlists there is quite easy and it's fun to share with friends and romantic interests. 
As the years went on, I started making more public playlists. By summer 2020, I really got into my groove and started my weekly curated playlist (Taste) based on new music releases each week. I've changed format since the summer, and now it's a monthly playlist of cool songs I find. 
What makes the perfect playlist? How do you want people to access / experience your playlists?
A playlist that tells a story is a perfect playlist. A well-themed playlist is attractive to me too. 
People can access my playlists by searching vortexsmiles on Spotify. It's best to listen to my playlists in order, as I usually pick songs that flow from one to the next.  
How does music influence your art? 
Music greatly influences my art. I sometimes hear a song and know immediately that I have to create a piece of art as I listen. Here's a playlist of songs that have inspired my art.
Sometimes it works the other way around and a lyric or a song will come to me while I'm looking at a finished piece. I often title my art with references to songs.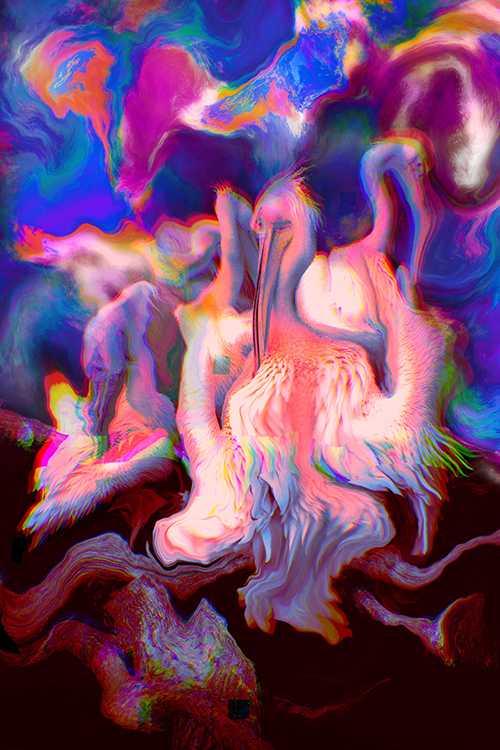 What is your artistic process?
My process changes a bit depending on mood. Usually, I wait until I'm really in the mood to create which is typically at night when my daughter is asleep. Sometimes I'll have a song in mind, so I'll listen to that song on repeat while I work on the art. If it's all original art I decide what brush I want to use on Pocket Procreate and play around until I find the right one (using my stylus pen). Then I start playing around with color. 
I realized recently that I use a lot of the same colors; a lot of blue and purple and rainbow schemes. I typically make a few lines and then use the liquify tool till I get a movement or feeling in the direction that I wanna go in. Sometimes I have no idea what I'm trying to do and I'll just experiment. 
What do you listen to as you create?
Haha! Depends on my mood, or if I'm working on a piece that is inspired by a song. Usually, I'll listen to new music playlists on Spotify, and that way I can find songs to add to my monthly playlist as well.
I'll listen to just about any genre – I'm always searching for something new to listen to that's dope. 
What is the worst earworm (a song that gets stuck in your head and won't budge) you have ever had? How long did it last?
'Forever' by Ar'mon & Trey was recently stuck in my head for like, 3 days, but it's such a good song that I didn't mind!
How do you share music with your kid? What's their taste in music like?
Sharing music is one of my favorite things to do with her. She adores music; her name is Lyric! I like to casually play music on my phone and that will usually get her attention. She likes a lot of different styles; from pop to rap. Shawn Mendes is one of her favorites. She often requests the Japanese music I like listening to.
What advice would you give your younger self / other artists just starting out?
Just relax! You are truly talented and don't let anyone tell you otherwise. 
Also, taking social media breaks is helpful so you don't compare yourself or get overwhelmed. Everyone is on their own journey and that's the beauty of it. Be you. Be true.
You've only got enough change for 3 songs on the jukebox – what do you pick?
Awww man! Only 3! I'll say: 
Futari – Tatsuro Yamashita
Late at Night – Benny Songs
New Light – Melissa McMillan
Where can people find your work?
I'm not working on anything particular right now, but I post almost every day on Instagram and Twitter. You can follow me @vortexsmiles. 
Also, flowcode.com/page/vortexsmiles has links to all my different playlists, social media, and print shops.
Thanks Charita! You can find Charita's magnificent piece 'Reflections' in our first issue, 'An Echo in the Heart Cave', available in our shop.