An interview with Bristol's favourite barrier-botherer, musician and artist
Big Jeff Johns is a staple of the Bristol music scene, and often the litmus test for a great show. If you see a cloud of blond hair and a sketchbook bopping down the front, you know you're in for a good time! Recently, Jeff's paintings have been shown on billboards around the city.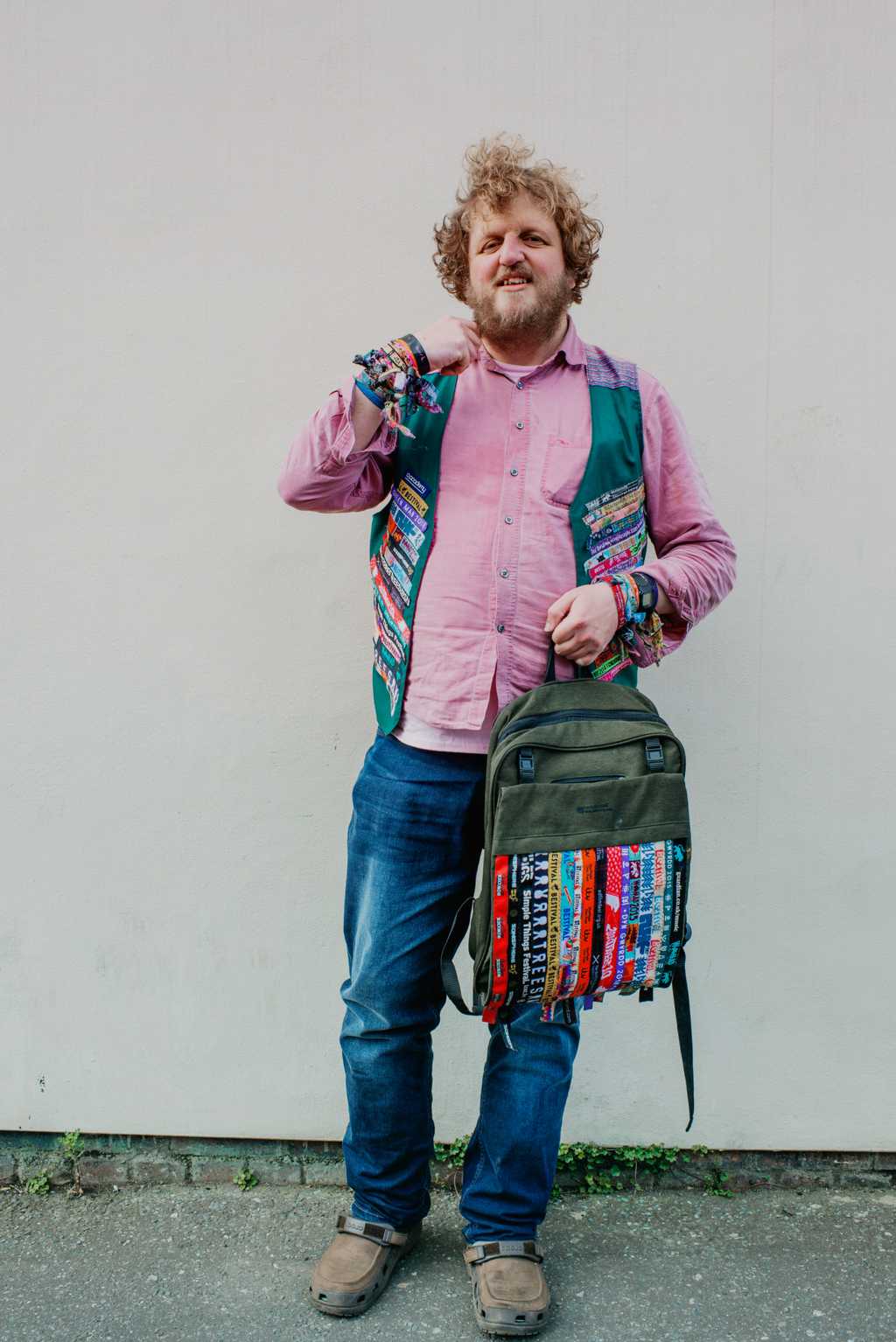 How's your lockdown been? Have you found time for creativity?
The first lockdown was really quite cathartic. I use art to deal with my emotions, so I was doing lots of painting! I usually paint at least once or twice a week. 
I've just started a new project, on the biggest canvas I could find! I was going to a show the same night I bought it, so I watched the football and stayed for the gig to see people's reactions when I walked in with this huge metre and a half by one metre canvas. 
I could only just get it into my flat, scraping the top of the doorframe on the way in! It's currently leaning against my kitchen wall. It's too big for my easel and too big for my table.
Big Jeff's big canvas! People who've seen you sketching at gigs might have thought you were about to take it up a notch and start painting at a gig.
Yeah! I haven't been drawing at many live shows lately, due to lockdown. I'm still getting used to being around people again. Sometimes that's still a bit of a shock. I enjoyed making people laugh with the size of my canvas though. I nearly knocked two or three people out getting off the bus.
I've found myself making quite a reflective piece. Me at 20 years old with my shaved head, in hospital with a gas mask, drip and breathing machine. Everything else is surreal. A figure representing death is holding my arm, and someone else is on the bed. Who knows how it'll end up.
Does it feel weird for people to know so much about you through your art?
I've gotten used to it. To be honest I've always been stopped by people a lot anyway. It's nice for people to see another side of me. Not just the big blond annoying guy blocking everyone's view at shows. Letting people see me be emotionally vulnerable means something to people. It's been nice, I haven't had any negativity. It's been really sweet. 
"Letting people see me be emotionally vulnerable means something"
I've had to pinch myself and ask 'Is this really happening?'! Loads happened during lockdown. I was still in Plymouth living with my parents. All the stuff with the billboards – my parents were great, lovingly bursting my ego bubble, 'yes, you're successful, but you still have to do the washing up!'. I was glad to have that balance. Otherwise, it would have gone too much to my head.
I'm lucky to have really supportive parents. My mum came to the exhibition and one of the press days, and we did a whistle-stop tour of the billboards. I'm really lucky to have that support.
Did she take you to your first gig – East 17?
I can't deny it, she definitely did. Mind you, I was only 11 years old! It was an all-star line-up – 'star' as in cheesy popstars – East 17, Michelle Gayle, Pato Banton, Craig McLachlan, Ultimate Kaos. Peter Andre, before anyone knew who the hell he was. And Backstreet Boys as well! They ran a competition to meet the fans; but I think they wanted to meet girls, rather than an 11 year old putting their middle fingers up at the camera. 
That love of live music had to start somewhere.
Exactly! I already had a love of music, inspired by my parent's cassette tapes in the car. Those car journeys shaped a lot of what I listen to now. I remember moving from Milton Keynes to Horsley and one of the tapes I really loved was a compilation by a wedding DJ of classic 70s funk and hip hop. Especially Afrika Bambaataa, those synthesizers sounded like space aliens to me. I hadn't really heard synthesizers until then. Grace Jones, Chaka Khan – you can't have a good disco without Chaka Khan! 
"My love of music was inspired by my parent's cassette tapes in the car"
Can you tell us about the music you make?
I've just recently joined a band called The Outlines. We make indie nerd rock. It's me and my friend Zach, he writes most of the songs. And Dan. It's a mixture of music dealing with being on the autistic spectrum and other issues, but some of it is really funny and silly too. Like we have a song about Nigella Lawson's amazing pronunciation of the word 'Microwave'. I must admit the first few times we played it, I burst into hysterics, but now I try to keep a straight face.
You can't beat a bit of creative absurdity. As a kind of palette cleanser for all the other stuff going on right now. 
We need it! There are some bands that have based their entire careers on it. Like Half Man Half Biscuit, and bands like that. Some serious-ish subjects treated with complete irreverence. The only time I've been hit over the head with a pair of oven gloves was at one of their gigs. Joy Division oven gloves!
I dabbled in other things too; I had my split-personality rap act, Manic F, which involved making the most horrible-sounding backing tracks for my performances of screamed semi-improvised raps. They had to be improvised, because I could never really remember what I'd written. I never recorded it, but I did quite a few shows.
I try to do as many things as possible. I've made a few stop-motion films with a company called Bigger House films. They help people with learning difficulties get into filmmaking. I'm planning to make a musical based on my life. It's going to be about the grieving process. It's about a young boy (me) dealing with losing a close friend living in the same house, and how he creates a fictional character to deal with the grief.
Although, I do find it difficult to watch documentaries about musicians when I know the outcome. I came out of the cinema after 'Amy' in floods of tears. You just knew it would lead to her untimely death.
You're creatively a very busy person – in the audience, on the stage, making art. What kind of advice would you give to other people just starting their creative journey?
If you're not hurting other people go with it. Start doing stuff without expectation. It's hard work, but if you really care, you'll put in the hours. Basically, if there's something you really want to do, just try to do it. The only person stopping you is you.
"If there's something you really want to do, just try to do it. The only person stopping you is you"
I've been with several different arts organisations. In 2007, I was purely a writer when I joined Art and Power. But I was given access to materials and space. Paint and different experiences. It opened a different world really. I've been lucky to be able to explore these things. 
"I was given access to materials and space. Paint and different experiences. It opened a different world"
When I started painting, I wasn't confident at all, so I started by painting words. It developed from there and I started painting words and flowers, faces… most of my paintings have faces as an emotional centre.
Do you have a favourite gig?
It's a difficult one, I don't include festivals – that would be too hard! I'd probably say David Byrne in Cardiff a couple of years back. One of the greatest shows I've ever seen in my entire life. It was beyond a gig. It was theatre! All the band members were doing choreographed dance routines while playing. It was like watching a lucid ballet for 2 hours. It was 'Stop Making Sense' x10.
Thanks Jeff! Finally, you've got enough change for three songs on the6ress jukebox. What do you pick?
I'd probably say, 'Reasons to be Cheerful Pt. 3' by Ian Dury and the Blockheads, Trans Am's 'Play in the Summer', and 'Walking on Broken Glass' by Annie Lennox. The soundtrack to me at 10 years old! I'll play it as the closing song on my radio show next week. 
Annie Lennox is someone I've still never seen live. Of all the people I've been lucky enough to see, she's still on my bucket list.
Find Big Jeff in our second issue: CROOKED JUKEBOX available to buy now
All proceeds will be donated to Girls Rock London
Big Jeff is also at bigjeffjohnsart.com and on Instagram and Twitter